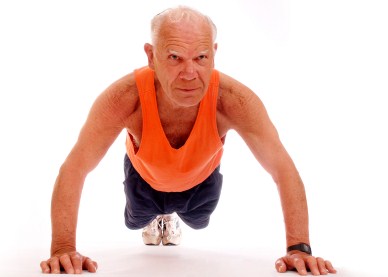 The Personal Trainers Association Senior Personal Trainer educational program creates exciting new career opportunities for you. PROPTA training opens doors into the homes and gyms of valued personal training clients.
You can provide the best specialized one-on-one training for older adults ranging from typical healthy individuals, to post-rehab stroke and cardiac clients, to active senior athletes.
You will profit from PROPTA's practical approach to fitness education. Below are descriptions of just some of the vital topics you will study:
The section entitled "Wellness-Oriented Custom Older Adult Training" provides complete step-by-step instructions for expanding a personal training business into a professional service that promotes total client wellness.
"Focus on Senior Athletes" explores working with high-fit seniors, older competitive athletes, and sports-minded older adults who want to improve their golf and tennis games.
"Points Training Systems" provides everything you need to quantify your client's training program, thereby ensuring balanced training and adequate energy expenditure.
"Management Principles" addresses legal, business, and marketing considerations. It shows you how to perfect your teaching, communication, and motivational skills. And it discusses important gerontological factors that you need to fully understand in order to be an effective senior personal trainer.
Additional topics covered by the PROPTA Senior Personal Trainer certification course includes:

Risk Factor Considerations
Older Adult Programming Guidelines
Frequency, Duration, Intensity, Mode, and Progression
Exercise Interactions and Implications
Medical Clearance Requirements Techniques for Monitoring Intensity Levels
Cardiovascular Concerns: CAD, Hypertension, TIA, Stroke, Intermittent Claudication
Obesity
Diabetes
Back Problems
Arthritis
Osteoporosis
Balance and Motor Control Deficits
Fall Prevention Sight/Hearing Deficits
Sarcopenia
This course is available for online study, home course study, one on one with a PROPTA Director and a weekend class.
Please Note:
Approval was granted by:
Endorsed by the IFBB PRO League
Approved and Endorsed by the National Fitness League " The NFL of Fitness"