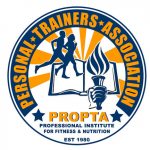 PROPTA wants to help you focus your attention on training your clients and expanding and growing your knowledge with the most up-to-date and respected education in the industry.
• Continuing education is the perfect way to stay up to date and advance in your career. HUMAN KINETICS is offering Continuing Education Credits (CEU) to PROPTA CERTIFIED members for renewing their personal trainer and Nutrition certifications and / or to advance to a higher level of certification.•
CEU Continuing Education is a great way to build your expertise to serve the people who need your help. Earn 10 CEUs every two years and get re-certified and keep your certification current.
The first step is to get certified as a personal trainer or a nutrition tech. Obtain Continuing education credits before you re-certify again in 2 years.
As a certified member, you will have the options to either advance by taking additional courses or you may re-certify to keep your certification active at the same level.
Continuing education credits (CEU) must be taken during and before the date of recertification. You must re-certify every 2 years to maintain your certification and keep it active. Failure to re-certify in time, will result in a void of your certification and you must take the class over again.
It is your responsibility to submit the CEUs when taken to keep track of how many so you can apply them towards your recertification. You also must keep your certification of completion as proof to confirm your CEUs.
CEU Approved Courses   by Human Kinetics

What is a CEU?
CEU stands for "Continuing Education Unit" simply to measure your continuing education. CEUs range of many topics, like Physiology, anatomy, biomechanics, nutrition, in person shadowing, taking exams.
Why continuing education units are required?
Continuing education keeps you sharp and knowledgeable with your skills so that you can perform at a higher level and maintain your credibility in the fitness and nutrition industry.
Continuing education benefits
Continuing education units CEUs are learnings to improve techniques that are derived from new and updated scientific research, training techniques, and to prevent mistakes and injuries. Keeping your knowledge sharp will help you make a difference in your clients lives to prevent injuries and offering the highest standard of service possible.
CEUs to apply to advanced Certification level
Any and all CEUs taken will accumulate in your account to help you reach an upper level and advanced certification.for example, you must accumulate 10 CEUs every 2 years. You can advance to a higher level of certification in either personal training or nutrition by accumulating 10 CEUs.
So, at the time of re-certification, you have accumulated 10 CEUs, you will automatically advance to a higher level. Just pay the fee for recertification at the time of recertification.
Levels of Advanced Certifications can be earned with CEUs:
Personal Trainer advancing levels every 2 years to:
Advanced Personal Trainer
Professional Persona Trainer
Master Personal Trainer
Nutrition advancing levels every 2 years to:• Nutrition Consultant CNC*• Nutrition Supervisor NS*
In order to reach the level of Nutrition Consultant Certification CNC* one must first take:
Nutrition Tech Certification course Link
Food Safety Certification course Link
Supplementist Certification course Link
Vitamin Expert Certification course Link
CEUs to obtain every 2 years.
3 CEUs must be earned from live lectures or online lectures via website or ZOOM. PROPTA awards 1 CEU per lecture = to 3 hours of lecture on any subject.
To earn lecture CEUs, PROPTA always schedules ZOOM lectures very often. Register to attend and earn your CEUs.
• To register please click on registration tab and choose CEU link.
Never let your certification expire and lose your credentials.
How are CEUs calculated?
CEUs are based on the number of hours a person spends to complete a given activity or task. CEUs can also be reported from taking college and university courses. Please check with us to validate prior to taking any course.
Below is how PROPTA calculates CEUs according the course hours.
1 hour = 0.33 CEU
2 hours = 0.66 CEU
3 hours = 1.0 CEU
4 hours = 1.33 CEUs
5 hours = 1.66 CEUs
6 hours = 2.0 CEUs
7 hours = 2.33 CEUs
8 hours = 2.66 CEUs
9 hours = 3.0 CEUs
10 hours = 3.33 CEUs
11 hours = 3.66 CEUs
12 hours = 4.0 CEUs
13 hours = 4.33 CEUs
14 hours = 4.66 CEUs
15 hours = 5.0 CEUs
16 hours = 5.33 CEUs
17 hours = 5.66 CEUs
18 hours = 6 CEUs
19 hours = 6.33 CEUs
20 hours = 6.66 CEUs
21 hours = 7.0 CEUs
22 hours = 7.33 CEUs
23 hours = 7.66 CEUs
24 hours = 8.00 CEUs
25 hours = 8.33 CEUs
26 hours = 8.66 CEUs
27 hours = 9.0 CEUs
28 hours = 9.33 CEUs
29 hours = 9.66 CEUs
30 hours = 10 CEUs
College and University courses
• one semester credit hour = 0.5 CEU• 1 quarter credit hour CEU = 0.3 CEU
For example:
• 3 unit, semester course = 1.5 CEUs• 4 unit quarter course = 1.2 CEs
Acceptable courses content:
Physiology
Anatomy
Biomechanics
Nutrition
Supplements
Training techniques (offered in person by PROPTA PROS)
Sport Psychology
Exercise physiology
Stretching courses
Testing and evaluation
Sometimes you may accumulate the exact amount of CEUs and sometimes you may not. But you must reach or surpass the CEUs required. The extra CEUs will always be part of advancing your level if you decide to advance more in the future. Your CEUs with PROPTA will never expire.
CEUs Categories
There are 4 categories to choose from. One must need CEUs from at least 3 categories.
Fees do apply to all categories.
Category 1- Shadowing ( PROPTA PRO director ) Must be approved by PROPTA.
Category 2- Courses ( one on one – online CEU courses by Human Kinetics – Advanced PROPTA courses – PROPTA Zoom live Seminars )
Category 3- Exams ( online exams ) Must be taken.
Category 4- Attending live lectures ( submitting a recap of the lecture )
        Category 5- Online live lectures ( PROPTA Taped live lectures )Taking the exam
All exams are online. You must register on the www.propta.com website and create an account. You can always access that account and add more exams or courses at any time.
It is recommended that you only have one account so not to create confusion and all CEUs will apply to you.
Exams and Courses are worth certain amount of CEU's. Please plan your courses and exam to reach the desired CEUs to recertify or to advance.
If you decide to not advance and stay at the level of a Certified Personal Trainer, then you must pay the full fee for recertification along with taking the recertification exam every 2 years.
If you do not pass your exam.
If you don't pass your exam on the first try, don't worry,  you have many attempts to pass within a certain time limit (90 days to complete and pass the exam).
If you don't pass the exam within a certain time limit, a late fee ($100.00 USD will apply to extend the exam time for 4 weeks (Please review the rules and regulations for more details).
Taking the Courses.
PROPTA Courses are
Online
On Zoom as lectures / academy courses
One on one lessons on Zoom
Home courses self-study
You must register on www.propta.com website and create and account. You can always access that account and add more Courses at any time.if you decide to advance your certification level, you must accumulate 10 CEUs.
Maintaining your certification
There are 2 options to maintain your credentials to continue working and up to date. whether you choose option 1 or 2, you must maintain your CPR/AED certification.
Option 1
Complete the required CEUs and report them and pay the recertification fee at a discounted price.
Option 2
Retake and Pass the re-certification exam required online and pay the re-certification fee.
Options 1 & 2 apply to all PROPTA certifications.Advancing with CEUs.
• As you acquire more CEUs, you can advance to a upper level certification credential. CEUs for Biomechanics, kinesiology, physiology, Fitness will apply to Personal Trainer certifications.• CEUs for Nutrition, diet therapy, Food, supplements, will apply to Nutrition certifications.
Recertification fee
All certifications have a two-year life. All students must re-certify to maintain their credentials as Certified.whether you have accumulated CEUs or not, all certification must be renewed every 2 years.
1. If you have accumulated enough CEUs to re-certify, your recertification will be at a discounted fee of ($399.00 USD – USA or $499.00 USD – International) Click here to Renew2. if you have NOT accumulated the required CEUs, your recertification fee will not be discounted and the regular fee for recertification is ($499.00 USD – USA or $599.00 USD – International). Click here to Renew