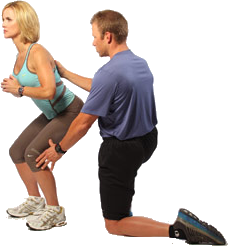 This program teaches the Trainer a theoretical approach needed to excel and apply proper academic and real hands on practical knowledge. This course must be completed in 90 days.
The curriculum will include the following:
Introduction to Kenisiology and Exercise Physiology, Resistance and Free weight training, Anaerobic and Aerobic training, Hands on Proper practical application, Flexibility and stretching, Designing exercise programs, Adult and Older fitness, Business application and legal issues, Body fat testing and measurement and more.
The following steps are required for completion:

Written exam submitted by e-mail only.

Practical exam hands on proctored by a PROPTA director professional athlete examiner in a gym atmosphere.

20 clinical hours prior to practical exam.

CPR Certification (can be obtained during curriculum and must be completed to graduate)

Food handlers certificate. (can be obtained during curriculum and must be completed to graduate at www.properfoodsafety.com)
Am I eligible for Personal Trainer certification?
The following eligibility requirements have been adopted for our Personal Trainer certification exams!
You must be at least 18 years of age.

You must hold current adult CPR and AED certificate at the time of the Final exam.

CPR certification is required for graduation. Even if you pass, your certification will not be issued without proof of CPR Certification.
Please Note:
Approval was granted by:
Endorsed by the IFBB PRO League

Approved and Endorsed by the National Fitness League " The NFL of Fitness"