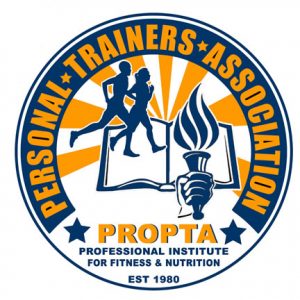 One on One 2 certificate courses

The Personal Trainers Association personalized One on One is an intensive 6 weeks, any day course, TWO certificates, Personal Trainer Certificate and Nutrition Tech Certificate,  with a curriculum divided among practical application training and Nutrition application discussions and lectures with a PROPTA director.

The benefit of this study course is that you will have a chance to ask any question you may have and get One on One instructions with the Director, discussions can be related to a wide range of information, including:

Nutrition
·  Proper eating
·  PH Levels
·  Energy and the Body
·  Vitamins and Minerals
·  Classifications of Carbohydrates & Fats
·  The role of Proteins and much more
·  Food applications and calorie adjustment

Anatomy & Physiology
·  Biomechanics
·  Muscle Structure
·  Skeletal Structure
·  Kinesiology
·  Nervous and Cardiovascular Systems

Practical Experience
·  Introduction to the Gym Floor
·  Proper Spotting Techniques
·  Health Evaluations
·  Equipment & Free Weight Utilization
·  Hands-on Gym Training

You will obtain Two Certificates upon completion. Everything is included in the fee for your program.
You will be tested on both course studies material, no exceptions.
A copy of your driver's license or government ID  along with a CPR certification must be submitted.
Course responsibilities:
Obtain a CPR certification

Obtain Food Handlers Certificate

Driver's License or passport copy

120 days to complete the course written exam

120 days to complete the practical exam
For failure to complete on time, a fee will be applied for an extension. You must be serious if you want to join the PROPTA team.

All books, exams and scheduled meetings with the PROPTA director are included in the fee for this program. A 120 days time limit is set when you register for this program to be concluded. A late fee will be assessed if late exams or meetings are not met or turned in or scheduled on time prior to that date. Date is set according to time of application. No exceptions.

Anyone will benefit from the Personal Trainers Association commitment to creating an atmosphere of aptitude, personalization and in-depth information delivered by industry and world-renowned professionals; all in an effort to create the highest level of understanding and practical skills to act as leaders in the health and fitness industry.

Learn the knowledge and skills necessary to design and implement safe, effective and unique programs benefiting every one with the Academy's curriculum…
Every one must pass with an 90% score on all exams.
Please allow 2 weeks for delivery of Certificate at completion of curriculum.
Tel: (818) 766-3317    Email: info@propta.com
Please contact our office by email or phone 818-766-3317 to make sure we can assist you in your location.
Classes are also offered by ZOOM sessions in your location if you prefer.