Frequently Asked Questions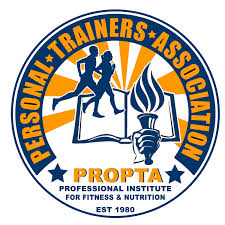 If I pass your Personal Trainer certification exam, do I receive certification?
Yes. Pass our required Personal Trainer certification Exam and you'll receive your Certified Personal Trainer certification or the Certified Nutrition Tech Certification from the Professional Personal Trainer Association "PROPTA". Exams include the Written Exam and the Practical Exam.
What about the other courses that you offer. Will I receive certification?
Yes, we offer a wide range of courses, which offer certification and advancement in your fitness and nutrition career.
Do I have to attend classroom sessions?
Depending on the course, some courses do require you to attend and some don't. Online courses do not require classroom sessions.
How long does each of the certification program / course take?
Each of our program / course are setup on a semester cycle / 90 days are given to all courses to be completed.
What kind of exam should I expect?
Our Exams are straightforward multiple-choice exams, essays and videos and also hands on practical exam to make sure you are competent in practical application to help avoid injuries and teach properly.
What is the time limit on your exams?
All course exams must be submitted within 90 days. No Exception.
Are there study guides and what are they like?
All of our course materials and our study guides have been prepared and written by World Class degreed competitive professional athletes, register dietitians and chemists and certified fitness professionals. Our study guides are designed to help prepare you for the real world.
What score do I need to pass?
A score of 90% or above is required for a passing grade.
What happens if I do not pass?
If you do not pass, you have an unlimited attempts to retake the exam for free within the 90 days given to you to complete the course and exam. If you need help, we can facilitate and help you understand the material either by email or by phone appointment or ZOOM .
Who designed your courses?
We are proud of the fact that all books, material and exams have been created by Joe Antouri, the founder and CEO of PROPTA " The Professional Personal Trainers Association".
How long does it take to receive my results?
We are pleased to provide our students with free instant test grading if done online, but if the test was emailed to be corrected (for inmates only), then 7 days or less is needed for results.
How long does my certification stay active?
Your certification will remain active for a 2 full calendar years from the date you pass the written exam or online exam. Keep in mind that you must also pass your practical exam for personal trainer course and your homework for the nutrition tech course prior to obtaining the certification. Once your certification expires, you can renew at the lower rate.
What is the practical exam consist off.?
Practical exam is mandatory to all personal trainers taking the courses. If you are within the testing area, then you will be assigned a director/examiner to conduct your test in person at a gym. Online testing is also available for out of range areas where a director/examiner is not available and we connect via ZOOM.
Is the practical exam included within the personal trainer course ?
Yes the practical exam is included as part of the course, no extra fee will be applied unless you missed the meeting with the director/examiner. You must cancel the meeting if you know that you will not be able to make it 24 hours ahead of the meeting time. No exceptions. If you do not cancel on time, a fee will be assessed and charged. Please plan ahead.
What homework is applied to the nutrition tech course?
Nutrition Tech course homework will be issued following the passing of your written exam. Timed Homework must be competed and submitted to obtain the certification.
Does PROPTA have a payment plan on any course ?
PROPTA is committed to help all students succeed and grow in their career. Yes PROPTA courses do have payment plans. A down payment to start the course and then another payment will be withdrawn automatically from your credit card every 2 weeks to payoff the balance. Some courses have 2 payments and some have 3 payments. We can also set up a comfortable payment plan for you to payoff the course fee, but it must be paid in full within 90 days.
For what purpose does PROPTA offers the food handlers certificate .
Obtaining the Food Handlers Certificate is mandatory for all Nutrition course taken. The reason is that everyone needs to know the rules of how to preserve food, prepare food, store food, clean food to be eaten and also get a good understanding about cooking and freezing temperature and how the area must be kept to prepare food area prior to eating or storing.You don't want your clients to get sick and miss their sessions, do you? just because they got sick of badly prepared food.