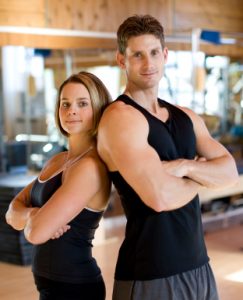 This program teaches the student ADVANCED theoretical approach needed to excel and apply knowledge as a Professional Personal Trainer course of study program must be completed in 90 days.
The curriculum will include the following advanced study in depth:
Bio-mechanics, muscle structure, skeletal structure, kinesiology, anatomy & physiology, nervous and cardiovascular systems, human performance. Advanced strength and free weight training. Advanced Aerobic and Anaerobic training, designing and implementing exercise programs for all ages and preventative and post-rehabilitative programs.
Practical application instruction and exam.
All courses that PROPTA offers will include sessions of instructions from a director-examiner. Also keep in mind that PROPTA support is always available, just a phone call away or email.
As an applicant you will have a choice of advancing to advanced level in the following courses:
Personal trainer Advanced
Group exercise- dance and fitness instructor Advanced
Power Lifting coach advanced
Youth health and fitness instructor advanced
Boxing/kick boxing instructor advanced
Mixed Martial Arts instructor advanced
Older adults fitness & Nutrition instructor advanced
The following are required to complete the course of study to graduate:
Written exams submitted by email only (typed with the questions)
Practical exam hands on proctored by a PROPTA director/examiner in a gym atmosphere
20 hands on clinical hours prior to taking the practical exam
CPR certification
Food Handlers Certification
Am I eligible for the Advanced level certification course?
The following eligibility requirements have been adopted for the Advanced level Certification courses:
Must be at least 18 years of age
level 1 Personal trainer certification
Nutrition Tech certification
one year of personal training (proof of certification must be presented)
Please Note:
Approval was granted by:
Endorsed by the IFBB PRO League
Approved and Endorsed by the National Fitness League " The NFL of Fitness"