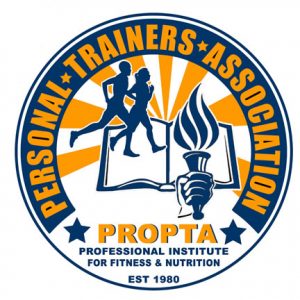 Certification Preparation Procedure
Upon acceptance and receipt of your application and certification fees, and all your information needed to process you application, study materials will be sent to you by regular mail. It is recommended that you study your material before taking your exam. All the questions occurring on the exam will be from the booklets, videos, seminars and clinical application provided by "PROPTA" the Professional Personal Trainers Association. You are allowed 90 days for studying and completing your written exams for the home study course/internet course, 120 days for the Academy 6-week program, 90 days for the 3-week academy/One-on-One course, and 90 days for the One-on-One program. If the time expires, you will be charged an additional $100 (one hundred dollars U.S.) to reinstate your course application. After the expiration time and reinstatement, you will have a chance to submit any written exams or schedule any practical exam within 30 days, or an additional fee of $250.00 (two hundred and fifty dollars U.S.) will be applied, if your work is not completed by then, your certification and your application will be revoked/canceled and no refund will be applied. No Exceptions.
Certification Exam
You will have the opportunity to take your written test either on the Internet or by e-mail; NO handwritten exams are accepted. Just remember that you have a deadline to meet for completion of the program and to submit your written exam. PROPTA CORPORATE keeps all records and all exams submitted. You must read and follow all directions prior to starting and before lapse time to avoid penalties.
The score of 90% or higher is required to pass all combined exams. You will get the results within a few days of submission. You must remember that the written exam is one part of the examination process for you to graduate; the other part is a practical exam that you must take with a director and/or IFBB PRO to complete the examination process. Everyone must complete all exams, the written and the practical, to graduate and get certified. NO EXCEPTIONS.
Certification course fee:
All certification course fees must be paid in full in order to obtain the certification upon meeting all of the requirements listed below and passing the written exam with 90% score. If a student chooses to apply for a payment plan for any course, then all payments must be made in full to complete the course fee prior to the required completion date of any and all courses that are taken. Failure to pay in full will result in one extension fee applied of $100 dollars added to the balance and the balance must be paid within the 30 days of the completion date of any and all courses. PROPTA does not apply any extra fees for all payment plans as long as the balance is paid on time and prior to the completion date of any course.  Payment plans can be applied at the checkout of the registration to most of the courses offered. Payment plans are not applied to any international students unless approved by the PROPTA corporate office.
Clinical application hours:
All students must complete 20 hours of clinical work. Students will be assisting while learning from a real live training sessions by the IFBB Director. Session will be set up conveniently to accommodate students. Directors will be assigned by the PROPTA office.
Clinical hours apply to all certifications offered by the Professional Personal Trainers Association PROPTA.
Required Ongoing Education (ROE)
All students will be required to attend seminars and clinics, online streaming videos or DVD home study lectures, along with written exams given by the PROPTA, or you may attend State-certified colleges or universities to obtain credits related to human sciences. A written exam will be required at these seminars. You will have the honor of meeting the Best of the Best in this field, including Doctors, Lawyers, and IFBB Professional Bodybuilders and Fitness athletes.
If you are not in the area and are not able to attend, you will have the opportunity to purchase and view the lectures online via the website or app. Or if you are attending a college or university, you may submit your credits to PROPTA to obtain credits toward your Certification.
ROEs are available on the PROPTA web site as an educational tool for a fee for all students with a busy schedule. Fees are applied to all ROE seminars and clinical hours.
For failure to have met 10 credits in 2 year's time, your Certification will be revoked and you will have to return it to the PROPTA office. All revoked Certifications will be announced on the Internet web site.
PROPTA Internship clinic
All students must obtain credit units throughout the year as required ongoing education. The Professional Personal Trainers Association has implemented a new program where the student can attend and observe any director or examiner on a work site while training clients to gain the knowledge and learn proper movement, proper application, proper spotting, communication and more… While attending the internship program the student will earn 2 credit units for every 4 hours spent with the director or examiner.
An appointment must be made with the office to facilitate the procedure and approve the internship hours. A certification of completion is issued for record keeping from the PROPTA office upon completion.
All fees for internship credit units must be paid in advance prior to approval by the PROPTA office. Any appointments made will not be cancelled or refunded.
A fee of $50.00 (fifty dollars U.S.) per unit must be charged to be applied toward your certification for ROE (required ongoing education).
Time is of the essence.
As stated above, you have a time limit from receipt of your books to complete the examination process and submit all the material to the PTA/PROPTA/USPTA office by e-mail. Faxes and/or handwritten exams will not be accepted. No exceptions. If you send your exams by mail they must be typed (no exceptions). Make sure that you have an extra copy in case the exam is lost. The PROPTA is not responsible for lost exams.
Please make sure you read all the material, letters and notes that are included in your program material and in your exams.
All rules apply to all students, worldwide. NO EXCEPTIONS.
Disciplinary Actions
Disciplinary action will be taken immediately against a certified member if and when:
1. The PROPTA becomes aware of an incident that may jeopardize the integrity of a Certified member and/or the company.
2. PROPTA will conduct an investigation immediately to determine the cause and whether to take any disciplinary action against any member or members involved.
List of Complaints
Submitting falsified information and documents to obtain a Certification:
1. Borrowing documents and falsifying a Certification(s)
2. Assisting in the borrowing of a Certification(s)
3. Submitting fraudulent documentation
4. Illegal use of a Certification/card
5. Falsifying a Certification(s) (legal action will be enforced)
A complaint could be submitted by anyone by email to info@propta.com, or even initiated by the PROPTA. All records in regards to any and all complaints will be kept and protected by the corporate office.
Actions Taken
1. After the investigation is concluded, the party at fault will be suspended and/or placed on probation.
2. The Certified member will be required to return his/her Certificate and card to the PROPTA corporate office immediately.
3. The name of the violator will be placed on the list over the Internet to protect all other members.
4. The PROPTA commission will then decide whether to press any charges against that individual.
5. The PROPTA will not tolerate any illegal activities.
PROPTA Rules & Procedures
All Rules and Procedures will apply to all students enrolling in the program. NO EXCEPTIONS.
Step 1:
All students must apply online and pay the fee required to execute the order for enrollment in the PROPTA program.
Step 2:
Application must be approved and processed within 2 days of receipt. An e-mail will be sent to the applicant if application is not complete or not accepted. A full refund will be applied only if application is not approved by the PROPTA office.
Step 3:
Materials will be shipped directly to the student's address on the application. A proof of delivery is always applied with a tracking number to ensure receipt.
Step 4:
All students are responsible for reading the material and taking the exams. A written exam for all certifications must be taken and submitted electronically within the time required.
Step 5:
All students must take the practical exams proctored by a PROPTA IFBB director/examiner assigned by the corporate office.
For Personal Trainers, the practical exam will be performed hands on at the gym.
For Nutrition Certifications, the practical/verbal exam will be performed at a location specified conveniently by the PROPTA office.
Step 6:
All students must fulfill the clinical hours required for all certifications. Required Clinical hours must be applied and supervised by the PROPTA Director/Examiner.
For Personal Trainers:
Practical internship of 20 hours is required with no extra cost to either the student of the examiner. An authorization checklist must be signed by the supervising official and returned to the PROPTA office for credits toward the certification.
For Nutrition students:
Practical internship of 20 hours is required with no extra charge to either the student or the examiner. Internship could be done at a vitamin store, a weight loss clinic, a hospital, with a PROPTA Director or a registered Dietitian in the area who deals with diet and nutrition therapy. An authorization checklist must be signed by the supervising official and returned to the PROPTA office for credits toward the certification. Approval is mandatory prior to internship to insure proper education and security.
Step 7:
A CPR certification must be current or obtained during the process and time of curriculum. No Internet CPR certification accepted or recommended. CPR certification must be provided by a hospital, fire department, police department, or school. Red Cross or American Heart Association CPR certification are recommended and accepted. CPR certification must be presented along with all exams and requirements by the deadline of the material presented to the PROPTA office for graduation.
Step 8:
Food Handler's Certification:
All students must obtain a Food Handler's Certification. It is offered in all states and is mandatory to obtain a nutrition certification.
Premier food safety will offer PROPTA Students a convenient way to study and obtain the certification with an online course structured specifically to PROPTA trainers and nutrition students. click here to register for the course
Step 9:
A current driver's license (or state-issued I.D.) is required by all students for proper identification; NO EXCEPTIONS.
Step 10:
Please allow 2 weeks for exam corrections. An e-mail will be sent to you upon completion of correction of your written exam.
Remember: all written exam must be electronically typed and submitted via e-mail; no more handwritten exams will be accepted (we cannot read them). If a handwritten exam is submitted, it will be returned; NO time extension will be given to redo the exam. NO HANDWRITTEN EXAMS WILL BE ACCEPTED.
Step 11:
Upon completion of all exams and CPR certification, driver's license and required clinical hours, a Certification will be issued and sent to you by registered mail. All students must pass all exams to be certified by the PROPTA.
All elements must be completed:
Food Handler's Permit
Written exam (Typed and e-mailed unless it is an online course)
Practical exam (Proctored by PROPTA Director/Examiner)
Clinical hours (at an approved location prior to commencing clinical hours)
CPR certification
Driver's License
If you have any questions please call or e-mail PROPTA corporate office at info@propta.com  TEL: 818-766-3317