One On One (Personal Trainer Certification for either Personal Trainer or Nutrition Tech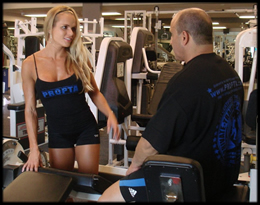 The Professional Personal Trainers Association personalized One on One course is an intensive 3 or 6 weeks, any day course, One certificate course, Personal Trainer Certificate course or Nutrition Tech Certificate course,  with a curriculum divided among practical application training or Nutrition application discussions with a PROPTA Professional athlete director or an IFBB PRO professionals.

The benefit of these study courses is that you will have a chance to ask any question you may have and get One on One instructions with the Director, discussions can be related to a wide range of information, including:

To complete the course you must:
Attend all meetings ( failure to complete all meeting required will result in additional fee for extra time for another meeting $100.00 US Dollars per meeting )
Submit all written exams and quizzes on time prior to due date.
Submit all clinical hours ( 20 hands on clinical hours shadowing a director in real live training session)
Submit a copy of a government ID, or a passport.
Submit a food handlers certification designed for personal trainers.
Pass all hands on Practical and verbal exams. ( you must prove to us that you are ready to perform, so we put you through a test).
You will obtain one Certificate per course upon meeting all requirements. All material included in the fee for your program.
You will be tested by a written and oral exams, no exceptions.
A copy of your driver's license along with a CPR certification must be submitted.

This program can be started at anytime.

All books, exams and scheduled meetings with the PROPTA director are included in the fee for this program. A time limit is set when you sign up for this program to be concluded. A late fee will be assessed if late exams or meetings are not turned in or scheduled on time prior to that date. Date is set according to time of registration. A 90 day program limit for all students, no exceptions.

Anyone will benefit from the Professional Personal Trainers Association commitment to creating an atmosphere of aptitude, personalization and in-depth information delivered by industry and world-renowned professionals; all in an effort to create the highest level of understanding and practical skills.
Learn the knowledge and skills necessary to design and implement safe, effective and unique programs benefiting every every one with this curriculum…
All students must pass with an 90% score on all exams.
Please allow 2 weeks for delivery of Certificate at completion of curriculum.
Telephone:: (818) 766-3317
Email:: info@propta.com