Become a PROPTA Director / Examiner.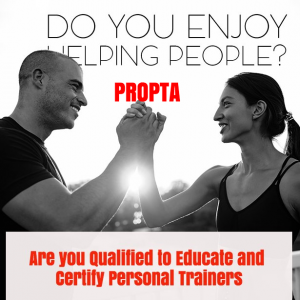 Educate and Certify your local personal trainers anywhere Worldwide.
It takes a special breed of leader to help other personal trainers elevate their
knowledge, boost their skills and thereby broaden their client base.
Personal training is a career requiring great heart, motivation and interpersonal skills to enable others to achieve their fitness goals. At PROPTA we know what it takes to create safe and effective fitness programs and great personal trainers.
That's why we're the recognized leader in our field.
PROPTA Directors understand the science behind bodybuilding, physical fitness and the secret of staying in shape forever. And how to grow a client base. They deliver educated, effective, fun and interesting seminars drawn from life experience—so rising personal trainers can learn from a PRO that knows the industry, have an extensive experience in real hands on application and proper bio-mechanics of Weight resistance training and Nutrition.
Scope of practice requirements
Demonstrate complete understanding of human anatomy and the concepts of functional exercise, optimal nutrition and the principles of exercise science. Education in human biology, physical therapy, physiology, human kinetics or nutrition is a must.
Show ability to design and execute individual and small group exercise fitness programs tailored to the needs and attainable goals of diverse individuals. You must be comfortable communicating with others including in front of an audience, and able to motivate others without being intimidated.
Understand the need and importance of client screening and continual assessment. Display high professional standards including integrity and a commitment to client confidentiality.
Demonstrate a commitment to fitness, continuous learning, and professional growth and development. Knowledge, extensive experience and ongoing education are all musts.
Communicate a humble willingness to go the extra mile in helping tomorrow's successful personal trainers reach their maximum potential. Be willing to take the time to listen to and address issues in helping others to succeed.
Be a fluent speaker of English, Spanish, Korean, Chinese, Japanese, Finish or Polish.
If you measure up to this, our PROPTA Directors initiative would like to hear from you. Professional athletes are encouraged to apply.
Below is the application for consideration of becoming a Personal Trainer Trainer/Educator with PROPTA. Please fill out and PROPTA executive will contact you.
Stay Focused on your Future.