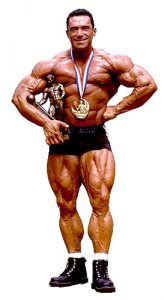 Master Mr. Olympia Claude Groulx in Canada
Senior Instructor / PROPTA Director Master Mr. Olympia Claude Groulx offers the following certification programs in Canada:
The course is held at the prestigious Fitness center. These courses include lectures, hands on practical application and proper bio-mechanics. All students must participate to learn and perform on an educational basis.
It is advisable not to miss any lectures from the curriculum because a lot of material is covered at the time of lecture.
3 weeks 1 certification course (Nutrition or Personal Trainer),

6 weeks 2 certification course (Nutrition and Personal Trainer),

Home Study course (Nutrition or Personal Trainer),

All materials are included in the course program.
3 weeks certification course: (1 certification "Personal Trainer or Nutrition Tech)

90 days to complete

written exam submitted by e-mail only

 CPR required for graduation

One On One instructions with Mr. Olympia Claude Groulx

Practical exam is mandatory for completion and graduation
6 weeks certification course: (2 certification Courses "Personal Trainer & Nutrition Tech)
120 days to complete
written exams submitted by e-mail only
CPR certification required for graduation
One On One instructions with Mr. Olympia Claude Groulx
Practical exams for both courses for completion and graduation
 
Home Study Course: ( 1 certification "Personal Trainer or Nutrition Tech")
90 days to complete
written exam submitted by e-mail only
CPR certification required for graduation
One On One instruction if needed with Mr. Olympia Claude Groulx (additional fee required)
Practical exam is mandatory for completion and graduation
 
Please allow 2 weeks for exams correction and delivery of material
To get started you must apply and pay the fees required to obtain books and material. All material will be mailed to you express prior to starting the program course.
To contact Mr. Olympia Claude Groulx Senior Director/ Examiner
TEL: 514-961-6379
E-mail: claudegroulxpro@aol.com  or E-mail PROPTA: info@propta.com