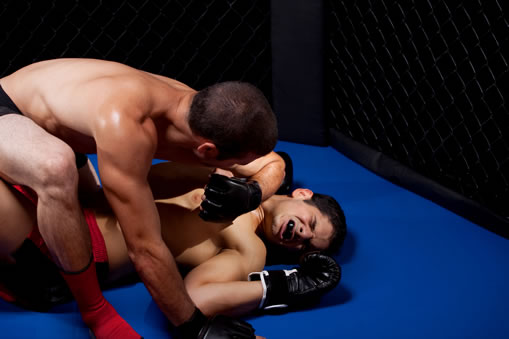 Mixed martial arts (MMA) is a full contact combat sport that allows a wide variety of fighting techniques, from a mixture ofmartial arts traditions and non-traditions, to be used in competitions. The rules allow the use of striking and grapplingtechniques, both while standing and on the ground.     Such competitions allow martial artists of different backgrounds to compete.
Modern mixed martial arts competition emerged in American popular culture in 1993 with the founding of the Ultimate Fighting Championship. Originally organized with the intention of finding the most effectivemartial arts for real unarmed combat situations, competitors of various arts were pitted against one another with minimal rules for safety.
In the following decade, MMA promoters adopted many additional rules aimed at increasing safety for competitors and to promote mainstream acceptance of the sport. The name mixed martial arts Jeff Blatnick, a former Greco-Roman wrestlerOlympic gold medalist. Following these changes, the sport has seen increased popularity with pay per view reach rivaling boxing and professional wrestling. was coined by one of the developers of these rules, and
As a result of an increased number of competitors, organized training camps, information sharing, and modern kinesiology, the understanding of the combat-effectiveness of various strategies has been greatly improved. UFC commentator Joe Rogan has claimed that martial arts have evolved more in the ten years following 1993 than in the preceding 700 years.
PROPTA "The Personal Trainers Association" is the first and only certification school  in the world to offer a course for MMA Professionals to get certified and teach the art. Professional athletes have to find a source of income in the field they like best. This is the only one of its kind.
PROPTA Senior Director Puni Aumauiunuuese along with professional UFC and MMA active fighter and trainers such as
Travis Browne,

George Castro,

Dominik Cruz,

Tika Ducik,

Grisha Todorov,

Ken Yasuda

Joe Striker Hanlin.
PROPTA Mixed Martial Arts Coach Certification
Our curriculum is divided into lectures, practical application and training:
Curriculum includes:
Overall Muscle Strengthening (Scientific Principles applied)
Muscle endurance training
Cardiovascular training
Explosion training
Agility training
Weight management and maintenance
Pre-fight conditioning
Anatomy & Physiology
Bio-mechanics
Muscle Structure
Skeletal Structure
Kinesiology
Nervous and Cardiovascular systems
Practical Experience
Proper Practical Application
Proper movement
Proper Spotting Techniques
Introduction to Gym Floor
Hands-on Practical application
Proper exercise implementation
Clients safety and evaluation
Upon completion of this course, a fitness professional should:
Have an understanding on instructing clients in the Mix Martial Art sport.
Have an understanding on safety and practical application while working with clients
Have an understanding on food application for energy and recuperation
Have an understanding on overall strength and proper application
Have an understanding on implementing routines and workouts
Have an understanding on stretching and injury prevention
The course will include all books, DVDs,  exams, material. Student will be responsible to obtain a hands on CPR certification, online CPR certification is not valid.
6 practical sessions are included in this course of study. If extra sessions needed, student must pay in advance prior to completing the course to graduate.
Online registration is mandatory for all students to commence the course of study.
Please Note:
Approval was granted by:
GI BILL Approved,
California State Approving Agency for Veterans
Bureau of Private Post Secondary and Vocational education
Endorsed by the IFBB PRO League
Approved and Endorsed by the National Fitness League " The NFL of Fitness"