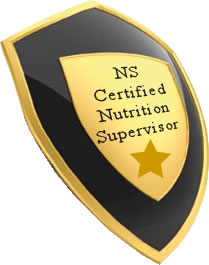 Nutrition Supervisor™ NS
™
A Nutrition Supervisor™ will be able to Plan, directs and coordinates the activities and daily operations of Food and Nutrition Services (menu evaluation and planning, purchasing, inventory, receiving, food preparation and storage) in order to deliver sound customer service and uphold First Healths mission and values. Ensure work assignments are carried out to provide quality, efficient and cost effective services. Responsible for schedules, performance evaluations, disciplinary actions and counseling.
Supervise the patient meal services ensuring quality food, temperatures and timely delivery.
Essential Duties and Responsibilities:
Assures that patients receive high quality, diet appropriate foods and excellent customer service.
Oversee all diet plans for approval and competency
Oversee supplements, vitamin and minerals appropriate consumption
Ensures documentation of temperature and taste at meals.
Trains staff / personal trainers / nutritionists to act on unacceptable food products.
Enforce proper habits and control by personal trainers and nutritionists.
Conducts tray accuracy checks on each checker monthly.
Assists and Collaborates with Dietitians on menu/special diet questions.
Ensures the use of standardized portions and proper serving technique.
Responsible for maintaining the appearance, safety and sanitation of the kitchen.
Maintains sanitation by assigning routine cleaning to staff.
Conducts sanitation inspections, and follows through with corrective action needed.
Ensures that dish machine temperatures are taken for each meal and staff is trained to act on unacceptable temperatures. Dish machine is cleaned daily and delimed weekly.
Ensures all HACCP requirements are meet. No major deduction, passing score on health department inspections, and other regulatory agencies.
Ensures all food, paper and chemicals are stored properly.
Education requirements:
One must obtain the following prior to registering to the Nutrition Supervisor™ NS™ Certification Course by PROPTA. Nutrition Supervisor™ is a trade mark owned by the PROPTA, the Private Trainers Association, inc. "PROPTA" also known as the Personal Trainers Association.
Bachelor degree in nutrition
Nutrition Tech Certification
Nutrition Consultant Certification
Supplementist Certification by PROPTA
Food Handlers Certification
Personal Trainer Certification Level 1
The Nutrition Supervisor™NS™ Certification Course will revisit all prior education in nutrition, supplements and food and implement a management course that will deal with real life situations to prepare all students and candidates to work and manage in businesses, hospitals, diet centers, school cafeteria, corporate offices and professional athletic teams.
During the course of study all students will be attending and observing as volunteers in hospitals, diet centers, cafeterias, schools or businesses that deal with food and dietetics. It is mandatory to obtain 100 clinical hands on hours in real active live settings to graduate and obtain the Nutrition Supervisor™ status and become certified as a Nutrition Supervisor™.
The course of study will be as follow:
6 sessions with a director (2 hours a session)(must be done within three months)
100 clinical hours hands on
Verbal Exams will be conducted on a regular basis
Mid term exam
Final Exam
All students must have all the per-requisites and documents and certifications prior to completion. All exams must be done on time.
Any postponed or missed sessions or exams, a fee of $200 dollars will be applied.
Students my start this course at anytime and sessions can be scheduled at anytime as long as it is set up at the start of the course.
This course is approved for SKYPE meetings in case you are not in the same location or in another country. This course is only applied in English at the moment.
Please read all the info in this page. This course is only for the serious. No refund will be applied at anytime for any reason after registration.
For more information please call the corporate offices of the Personal Trainers Association at 818-766-3317
NS™ is a Trade Mark owned by the PROPTA, NS* stands for Nutrition Supervisor. The unauthorized use of this mark will result in an infringement on the mark.
Candidates should be familiar with:
Anatomy, bio mechanics, structure & function of muscles, muscle groups, joint actions, appropriate exercise selection, cardiovascular fitness tests, muscular strength and endurance tests, flexibility and low back strength evaluation, blood pressure,developing programs based on evaluation, Food and diet therapy, vitamins, minerals, herbs.
Please Note: NS* is a registered Federal Trade Mark owned by the Personal Trainers Association.